The Signature Mazda Magazine November
Richmond, British Columbia, November 1, 2019 – 2019 MAZDA 3 RECORDS EXCELLENT FUEL ECONOMY FIGURES AT AJAC ECORUN
For the 8th year in a row, automotive journalists from across Canada set out on a unique quest: to drive as fuel-efficiently as possible.
Starting in Edmonton, the Automobile Journalists Association of Canada (AJAC) EcoRun challenged the journalists to drive 877 km using as little fuel as possible.
Both the 2019 Mazda 3 AWD GS and the Mazda 3 Sport GS FWD came back with impressive results.
"Mazda entered a pair of Mazda3s – one a hatchback with all-wheel drive; the other a front-wheel-drive sedan. The AWD model finished the event with a 5.4 L/100km total, while its sister car was 5.7. Compare those ratings with the NRCan listings of 8.2 and 8.0, respectively." wrote Clare Dear, a journalist with AutoFile.ca.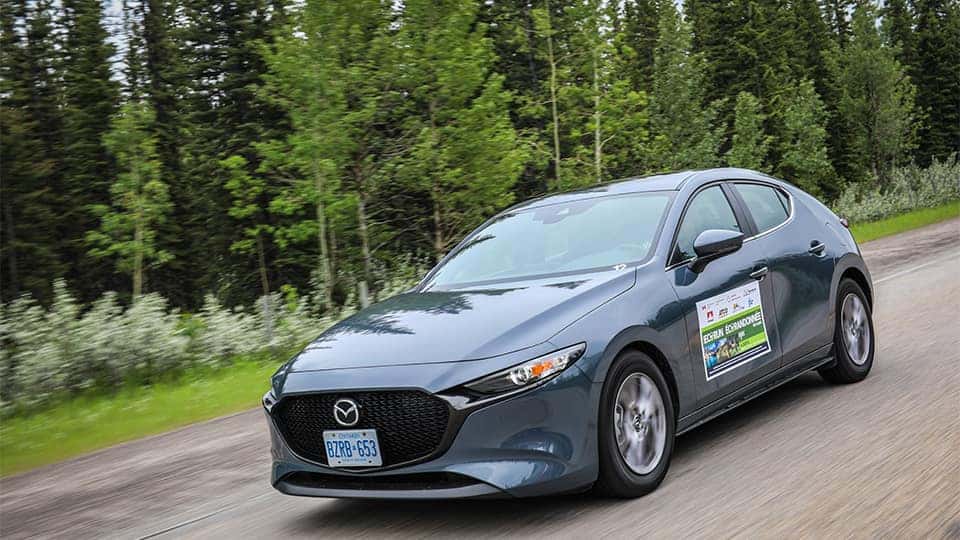 Kunal Dsouza, a journalist with wheels.ca, was impressed by the Mazda 3 AWD GS he drove for a leg of the journey that took him through Red Deer, Alberta. "Arriving at our first stop in Red Deer, the Mazda clocked in an insane 5.1 litres per 100 km, well below its NRCan rating of 8.2 and a record for the car in this competition. How'd I do it? I stuck to my guns and stayed in the right lane within 5 km of the 110-km/h speed limit, while traffic drove around me making sure to get a good look at the driver of the slowest car on the road. I left the AC off and cracked the windows every half hour to let in some fresh air. I remained conscious about my throttle and braking inputs making sure to avoid any abrupt speed changes. Smoothness is key, but the new Mazda3 deserves most of the credit here for its super-efficient drivetrain."
With the 2019 AJAC EcoRun coming to a close, Mazda has their eyes set on the top of the pack for 2020.
The Signature Mazda team is always excited to assist you in finding the perfect vehicle for your needs. Visit us in the Richmond Auto Mall today!
Signature Mazda
www.signaturemazda.com
13800 Smallwood Place
Richmond, British Columbia
V6V 2C2
604.278.3185